When it comes to finding the perfect neighborhood to live or invest in, Paphos shines as an exceptional destination. With its rich history, stunning landscapes, and vibrant lifestyle, this city offers a wealth of opportunities.
In this article, we will explore the top five neighborhoods in Paphos that provide a harmonious blend of modern amenities, breathtaking views, and convenient access to essential facilities. Whether you seek coastal living, cultural experiences, or a bustling residential hub, Paphos has it all. Let's delve into the top five neighborhoods that should be on your radar for a remarkable living or investment experience.
Sea Caves – Pegeia: A Coastal Haven of Modern Living
Discover the enchanting Sea Caves area in Pegeia, one of the most sought-after destinations on the island. Nestled along the coast, this newly developed community seamlessly blends modern amenities with the allure of breathtaking sea caves. With recent developments like Cap St. Georges Hotel & Resort and the rise in construction of beachfront villas offering the epitome of luxury, this neighborhood has experienced a surge in demand, which has benefitted the entire area.
Adjacent to the Sea Caves area and at the heart of Pegeia's tourist area lies Coral Bay, boasting two Blue Flag awarded beaches and a picturesque seaside environment. The main Coral Bay Beach stretches for about 600 meters and is renowned as one of the best beaches in the Paphos region. Apart from its stunning beaches, Coral Bay's main tourist street, Coral Bay Ave, is a vibrant hub of activity. Lined with cafes, restaurants, souvenir shops, and tour agencies, visitors can enjoy a lively atmosphere and find various entertainment options.
Nearby attractions in Pegeia include the famous Avakas Gorge in the northern tip of the neighborhood. Avakas Gorge is not only a natural wonder but also offers excellent hiking opportunities with towering cliffs and a scenic walking route suitable for families with older children.
Pegeia offer a serene environment, picturesque landscapes, and mesmerizing sea views. Whether you're looking for a peaceful residential retreat or a promising investment opportunity, Sea Caves is the epitome of coastal living at its finest.
Paphos Tourist Area: Where Ancient Charm Meets Contemporary Allure
Immerse yourself in the Paphos Tourist Area, a neighborhood that effortlessly combines ancient charm with contemporary allure. This vibrant district showcases the city's rich history and stunning natural beauty. Delve into the archaeological wonders of the UNESCO World Heritage Sites, explore the charming Paphos Castle, or simply relax on the pristine beaches. The Paphos Tourist Area offers a perfect balance of cultural experiences, rejuvenating coastal vibes, and vibrant nightlife. Investing or living in this neighborhood ensures a well-rounded and fulfilling lifestyle for residents and visitors alike.
Tala: Serene Beauty and Breathtaking Sea Views
Tala, a charming suburb nestled on a small hill just 11 km from the city, has undergone remarkable transformation in recent years. Located a mere 10 km from Coral Bay and 5 km from The International School of Paphos, Tala's favorable geographical position and proximity to the city have played a significant role in its development. Once an ordinary village like many others, Tala has flourished over time, with new plots being utilized for construction and a growing number of houses dotting the mountainside. Notably, Tala is characterized by its predominantly private houses, with only a few complexes present in the area.
The village of Tala can be divided into two sections: the old and the new. The old section encompasses the municipal center, a quaint square, and a historic church. As you wander through this part of Tala, you'll discover winding streets that date back to the early 20th century, evoking a sense of nostalgia and heritage.
In the heart of the village, you'll find cozy cafes where you can relax and savor local flavors. Nearby, a handicraft shop adds to the charm, offering unique creations. The local post office and police offices are also conveniently situated in this central area, ensuring essential services are easily accessible to residents and visitors alike. Tala's village center exudes a sense of community and serves as a focal point for daily life in this picturesque location.
With its rich history, captivating landscapes, and a growing community, Tala offers a serene retreat away from the hustle and bustle of the city. Whether you're exploring the old streets, enjoying a cup of coffee in the village square, or admiring the breathtaking views from the hillside, Tala presents a harmonious blend of traditional charm and modern convenience.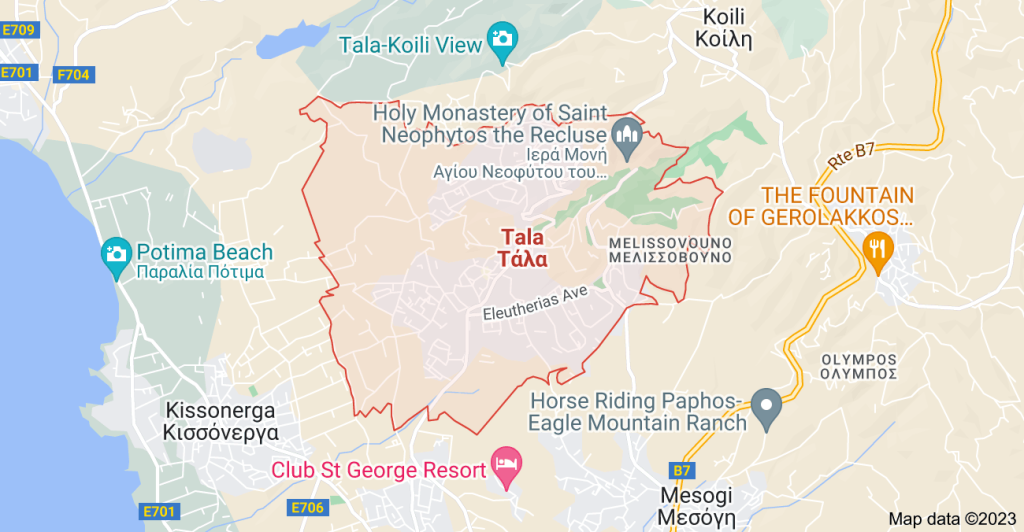 Konia: A Vibrant Residential Hub with Enchanting City Views
Welcome to Konia, a vibrant suburb renowned for its popularity as a residential hub near Paphos. This neighborhood has undergone extensive development, offering a bustling living environment while remaining close to the heart of the city.
One of the standout features of Konia is its pleasant climate. The area enjoys cooler temperatures in the summer and is shielded from the humidity that can be found in Paphos during the summer months. Despite its close proximity to the bustling town, Konia maintains a sense of tranquility, making it an ideal retreat away from the crowds. It has become particularly popular among locals who appreciate the suburban environment while still having easy access to essential facilities.
Konia is also highly regarded by families, whether local or international, due to its proximity to the International School and the presence of its own public primary and infant school. The area provides a safe environment for children to grow up, with many quiet areas perfect for outdoor play. The warm and welcoming nature of the locals contributes to the inviting atmosphere of Konia, which is now home to a diverse mix of nationalities.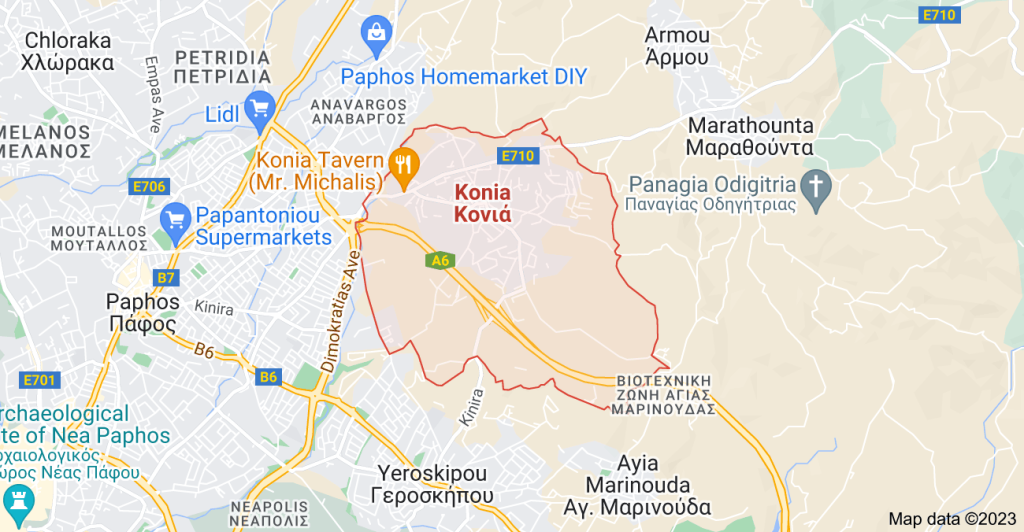 Geroskipou: Vibrant and Tranquil Living at the Heart of Paphos
Discover Geroskipou, a neighborhood nestled at the heart of Paphos. This vibrant yet tranquil area provides easy access to a plethora of amenities, a lively local scene, and the beautiful nearby beach. Geroskipou offers the perfect blend of convenience and tranquility. Picture yourself strolling through the narrow streets, sampling local delicacies, and enjoying the lively atmosphere. For those seeking breathtaking sea views, Geroskipou's hilltop locations provide an awe-inspiring panorama. Living or investing in Geroskipou ensures a well-rounded lifestyle with the best of both worlds.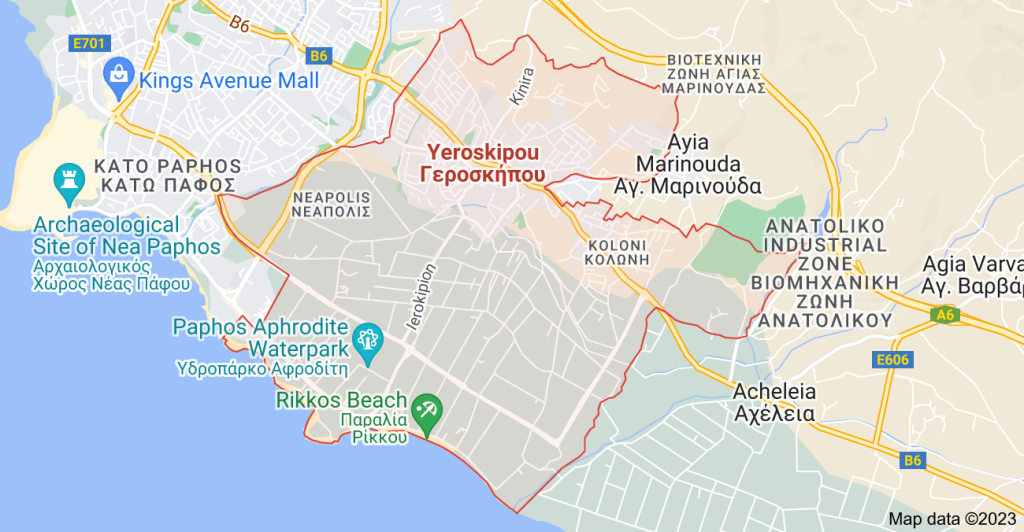 Paphos stands as a city that caters to various lifestyles and preferences, with each neighborhood offering unique advantages.
Whether you're captivated by the enchanting Sea Caves in Pegeia, the cultural and natural wonders of the Paphos Tourist Area, the serene beauty of Tala, the vibrant appeal of Konia, or the convenience and tranquility of Geroskipou, there is a neighborhood to suit your desires.
Take the time to conduct further research, consult with real estate professionals, and explore these neighborhoods firsthand to make an informed decision. Your dream home or investment opportunity awaits in one of these remarkable Paphos neighborhoods. Begin your journey to an extraordinary life in Paphos today.